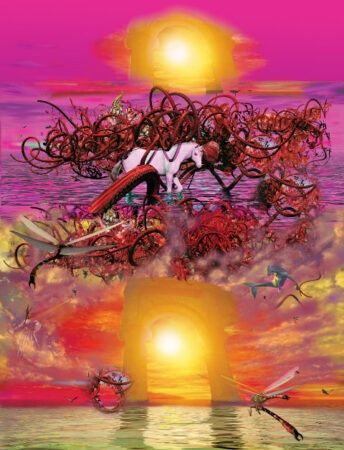 A Unicorn Basking in the Light of Three Glowing Suns
A Unicorn Basking in the Light of Three Glowing Suns Curated by Anthony Elms and Philip von Zweck
This exhibition presents artists and artworks that navigate the intersections where bureaucratic information and fantasy define each other. Science fiction and other forms of speculative entertainment often posit a future or parallel world where nature, science and culture function according to different laws. Of course, in order for the audience to understand the nuances, differences and allusions to their own world, common tropes, structures and objects are required to recognize what is not of this world. The borders need to be readily legible in order for accepted notions to be placed in crisis.
The clarity of information is often ridiculously humbled whenever new findings reveal the limitations of classification and the orderliness of fact is found too be more permeable than the press would have us believe. And as anyone with a passing knowledge of the science fiction, or really almost any genre, can attest often the road to otherworldly will be bogged down by the endless repletion of detail, factoids, technical minutiae and busywork. The artists or groups featured have each in their own way let it be known that statements of fact are not enough, and that fantasy never escapes the boundaries of what we can imagine.
This world is trouble. We know it. We could spell out the why and how, but that tale would hardly result in any dream worth having. In 2008, when discussing artistic strategies that claim the political legacy of 1968, British artist Liam Gillick made the following observation: "for every artist' collective that offers information in lieu of a fourth estate no longer meeting its obligations, there is a small painting of a unicorn basking in the light of three glowing suns." This statement was the genesis for the exhibition. The jarring quality of this comparison is just how similar the two supposedly diametrically opposed poles seem. A Unicorn Basking in the Light of Three Glowing Suns addresses, sometimes passively and sometimes through negation, those things that socially construct desire. For where is ideology more blatant than in a dream?
To which, we paraphrase a question posed by Chicago-based artist and activist Laurie Jo Reynolds: if a man falls down a well, do you write a poem about it or do you get him out of the well?
Our response is clear: you refuse such reductive choices. You document and dream until somehow it is simply not possible to imagine a world where wells are not considered appropriate places in which a man should fall. What if, for example, the popular yet thread-worn mantra "there is freedom on this canvas", spoken often by television painting instructor Bob Ross, had transformative implications for your body and politics? Would you fill out all the forms to be a happy tree?
Anthony Elms is a Chicago-based artist and writer. He is Editor of WhiteWalls, and Assistant Director of Gallery 400 at the University of Illinois at Chicago. He has curated numerous publications, musical compilations and art exhibitions at Gallery 400 and independently. Philip von Zweck is an artist whose practice primarily involves the organization of other artists work, including a weekly radio show, monthly apartment exhibits of other well-known and undiscovered artists, developing guest lectures and performing weddings. Von Zweck graduated from the University of Illinois at Chicago in 2004 and currently teaches at The School of the Art Institute of Chicago. He was the 2007 recipient of the Emerging Artist Award from the Richard H. Driehaus Foundation.
Artists Included::

AIDS 3D, TOPI/TOPY/Genesis Breyer P-Orridge, Gary Cannone and Charles Irvin, Castillo/Corrales. Chances Dances, deluxe projects, Dexter Sinister, Renée Green, Shane Huffman, Matthew Metzger, Rebecca Morris, My Barbarian, Orson Panetti, Jon Rafman, John Russell, Steve Ruiz and Zachary Cahill
Hourly Schedule
Related Events
Friday, October 8, 5pm

Curator's Talk

Speakers:

Anthony Elms, Philip von Zweck
Friday, October 8, 6-8pm

Public Reception
Friday, October 8, 7pm

Performance Piece

by Zachary Cahill (Chicago, IL)
Friday, October 8, 8pm

Music Performance

by the Terminal Orchestra (Marquette, MI)