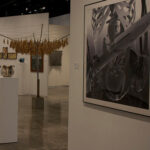 The North of the 45th 2009
The North of the 45th is an annual juried exhibition of artists living North of the 45th Parallel from Michigan, Wisconsin and Minnesota. Each year a different juror from outside of the area, but within the Midwest, is asked to select pieces for the exhibition from an open call for entries. This year's exhibition was juried by MaryAnn Wilkinson, a former curator of European modern art and contemporary art at the Detroit Institute of Arts. A Michigan native who was trained in the history of art at the University of Michigan, she has organized exhibitions and worked with artists for nearly thirty years. Now a Detroit-based independent curator and scholar, she is working on a book on outdoor sculpture.
"Museum shows tend to be short on surprises these days. Most exhibitions are carefully organized around a theme, with works neatly fitted together like pieces of a jigsaw puzzle, to illustrate one or two important ideas. This show isn't like that. Instead, there are as many ideas as there are works of art; each work asks to be appreciated on its own merits. Organizing a juried group exhibition is exhilarating because it is so unpredictable. One never knows what the entries will bring and the final product – the look of the show and the connections between works – is revealed only during installation. It's important to resist the temptation to draw conclusions from the result, although this type of show can take, to some degree, the measure of a community or region. To that end, I have tried to include many artists, the great majority by only one work. I wanted this show to demonstrate my belief that there is room in art for lots of approaches and ideas. The richness and sophistication of the entries insure that the visitor will find wonderful surprises from the beginning of the show to the end.
I would like to thank Melissa Matuscak, the dynamic curator of the DeVos Art Museum for inviting me to participate in this project. I would also like to thank all of the artists who submitted work for the jury; it was a pleasure to have the opportunity to see their work."
-MaryAnn Wilkinson, Juror of the 2009 North of the 45th exhibition
Artists Included::

Hend Al Mansour-St. Paul MN; Benjamin Andrews, Marquette, MI; Pamela Ayres, Interlochen, MI; Luke Barabe, Marquette, MI; Ingrid Blixt, Escanaba, MI; Ryan Brayak, Escanaba, MI; Chevalier Daniel C. Boyer, Houghton, MI; Edwin Carter, Marquette, MI; Chaplin Cinelli, Marqutte, MI; Kathleen Conover, Marquette, MI; Cynthia Coté, Calumet, MI; Jon Damaschke, Marinette, WI; David G. Danielson, Roseau, MN; Stacy Vaughn Davis, Republic, MI; Jack Deo, Marquette, MI; David Brian Dobbs, Minneapolis, MN; Joseph M. Donna, Alpena, MI; Scott Dupras, Marquette, MI; Keith Ellis, Marquette, MI; Christine Flavin, Marquette, MI; Larry Godfrey, Gladstone, MI; Anne Haara, Marquette, MI; Levi Haske, Marquette, MI; Melissa Hronkin, Mass City, MI; I John Hubbard, Gwinn, MI; K. Carlton Johnson, Lake Linden, MI; Caitlin Karolczak, Minneapolis, MN; Jake Keeler, St. Paul, MN; Connie Kerkove, Ironwood, MI; Linda King-Ferguson, Au Train, MI; Mary Klacza, Marquette, MI; Marissa Krawczak, Marquette, MI; Emily Lanctot, Marquette, MI; Yvonne LeMire, Marquette, MI; Michael Letts, Negaunee, MI; Erik Lewandowski, Iron Mountain, MI; Kaz McCue, Interlochen, MI; Eric Munch, Calumet, MI; Rosa Musket, Marquette, MI; Marvin Niemi, Marquette, MI; Zachary Niemi, Ishpeming, MI; Kim Nixon, Marquette, MI; Jeremy Oswald, Washburn, WI; Bernard Park, Marquette, MI; Samuel Pecard, Marinette, WI; Russel Prather, Marquette, MI; Shravan Rajagopal, Marquette, MI; Doug Rassier, St. Joe, MN; Kayla Rethwisch Pieper, Robbinsdale, MN; Tamsie Ringler, Shafer, MN; Rhett Roberts, Minneapolis, MN; Paul Rosa, Garden, MI; Rex Rule, Gwinn, MI; Ann Russ, Marquette, MI; Grant Ryan, Marquette, MI; Steve Schlumpf, Marquette, MI; Steve Schmunk, Marquette, MI; David Sebberson, St. Cloud, MN; Theresa Smtih, Marquette, MI; Joe Sobel, Marquette, MI; Dennis Staffne, Marquette, MI; Kellie Stahl, Marquette, MI; Sean Stimac, Marquette, MI; Tonja Torgerson, Minneapolis, MN; Mark VandenBosch, Marquette, MI; Bill Wiard, Calumet, MI; Cameron Wilcox, Marquette, MI; Candace Zebel, Menominee, MI;