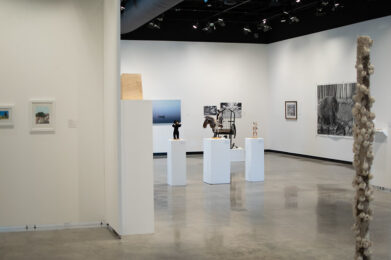 ELIGIBILITY
Open to all residents of Michigan, Minnesota, and Wisconsin living North of the 45th parallel. There is wiggle room for people within 1 degree of this area, but the idea is to represent artists living in the upper Midwest region. Work in all media is welcome and there are no size limitations. Any work previously exhibited at the museum is not eligible.
AWARDS
A Juror's Choice award will be selected by the juror, with a prize of $500. The Juror's Choice recipient will also receive a one-on-one portfolio review with the juror.
An Audience Choice award in the amount of $250 will be given at the close of the exhibition, based on votes by visitors to the exhibition.
A Permanent Collection Acquisition Award
(This award is dependent upon approval by museum committee.)
View the Juror's Talk
Download the Catalogue
Exhibition Images
Artists Included::

Ben Bohnsack | Maddy Bradley | Ginnie Cappaert | Taimur Amin TR Cleary | Vincent DeZutti | Christopher Faust | Paddy Foersterling | Raymond Gaynor | Larry Godfrey | Niikah Hatfield | Lindsey Heiden | Julie Highlen | Matt Hirvonen | Steven Hughes | KathryLund Johnson | Ashley Kolka-Lee | Carie Koscielny | Ted Lakomowski | Christine Lenzen | Michael Letts | Shawn Malone | Bill Murcko | Nick Preneta | Paul Rose | Bill Savage | Erin Scott | JoAnn Shelby | April South-Olson | Corrie Steckelberg | Cindy Wedig | Cameron Wilcox | Kaelyn Wright
Hourly Schedule
Related Events
Steven L. Bridges
Steven L. Bridges is Associate Curator at the Eli and Edythe Broad Art Museum at Michigan State University. Most recently, Bridges curated the major exhibition Oscar Tuazon: Water School, and co-curated the exhibitions Michel Parmentier and Michigan Stories: Mike Kelley and Jim Shaw. Other notable projects include Beyond Streaming: A Sound Mural for Flint, a residency and exhibition for which artist Jan Tichy was invited to respond to the Flint water crisis. Previously, Bridges was the Curatorial Assistant at the MCA Chicago where he curated solo exhibitions of the work of artists Faheem Majeed and Jason Lazarus. He also assisted the major retrospective exhibition of the work of Doris Salcedo, which traveled to the Solomon R. Guggenheim Museum in New York and the Pérez Art Museum Miami. From 2011–15, Bridges co-curated the annual Rapid Pulse International Performance Art Festival in Chicago. His essays and articles have been published in numerous journals and in exhibition catalogs and other online and print media. In 2017, he was named a curatorial fellow at the FACE Foundation.