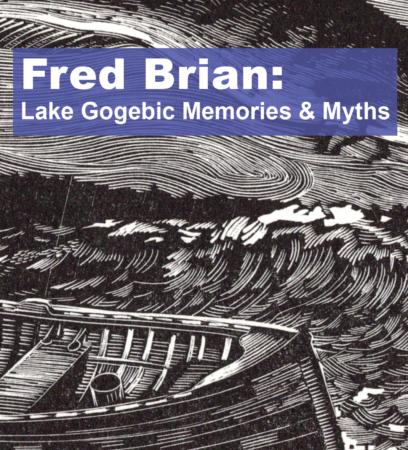 Fred Brian: Lake Gogebic Memories & Myths
Fred Brian: Lake Gogebic Memories and Myths
September 21, 2023 – March 1, 2024
A World War II pilot, fisherman, artist, printmaker, and educator, Fred B. Brian's many roles relied on keen observation. While born in Normal, Illinois, in 1924, Brian found creative inspiration in Michigan's Upper Peninsula. Summers at the family's cabin in the Ottawa Forest on Lake Gogebic feature prominently in his work. Brian translates childhood observations into narrative artwork. Stories swapped at the kitchen table and surreal memories of his father placing a fishing boat into the living room for winter storage are the basis of personal myths in his black and white woodcut prints.
Thank you to Philip Kucera and Holle Brian for their generosity and help in making this exhibition possible.
Thursday, September 21, 5:30 pm – Please join us for an opening reception and an introduction to the exhibition by Holle Brian. Free & open to the public.