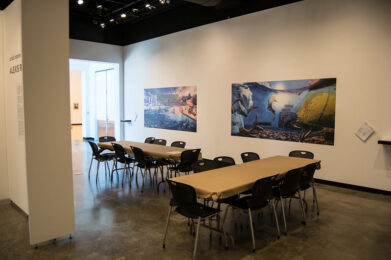 In 2013, artist Alexis Rockman began an ambitious research project on the Great Lakes ecosystems. His tour of the region brought him to the Upper Peninsula, where he worked with biologists from the NMU and local communities. The Grand Rapids Art Museum (GRAM) will debut the work Rockman created from this project, opening on January 27, 2018 at the GRAM. The DeVos Art Museum, in collaboration with several departments on campus, will welcome the artist to campus for a three-day residency in October. As part of his residency, the artist and the GRAM has graciously given NMU permission to exhibit several reproductions of the work. The museum will display three large-scale reproductions of Rockman's paintings from The Great Lakes Cycle, as well as reproductions of field drawings. From the Grand Rapids Art Museum website: artmuseumgr.org
Alexis Rockman: The Great Lakes Cycle explores the past, present, and future of North America's Great Lakes–one of the world's most emblematic and ecologically significant ecosystems. This multifaceted project was initiated in 2013 when artist Alexis Rockman embarked on a research tour of the Great Lakes region. The centerpiece of the exhibition is a suite of five mural-sized paintings which explore separate themes that emerged during Rockman's travels. These are accompanied by several large-scale watercolors and field drawings–monochromatic animal and plant studies made from site-sourced organic material such as mud, sand, coal, and leaves. Read the full text about the artist's exhibition, opening in January 2018, on the Grand Rapids Art Museum website.
About the Artist
Born in 1962 and raised in New York, Alexis Rockman has been the subject of many solo and group exhibitions internationally, including a major retrospective organized by the Smithsonian American Art Museum. His work is included in public and private collections around the world, and he has held teaching posts at Columbia and Harvard Universities, among others. Rockman studied at Rhode Island School of Design and the School of the Visual Arts, New York and gained early recognition in the mid-1980s for his realistic bio-botanical scenes. He lives and works in New York City.
The display at the museum and the artist's residency at NMU has been made possible by NMU's School of Art & Design, Department of Biology, Communication & Performance Studies, School of Education, Leadership & Public Service, Department of Physics, Center for Native American Studies, Department of Earth, Environmental & Geographical Sciences, College of Arts & Sciences, Academic Information Services, Academic Affairs, Honors Program, Marketing & Communications, Beaumier Upper Peninsula Heritage Center, NMU Foundation, John X. and June A. Jamrich Endowment for the Arts and Peter White Public Library. Special thanks to the Grand Rapids Museum of Art.